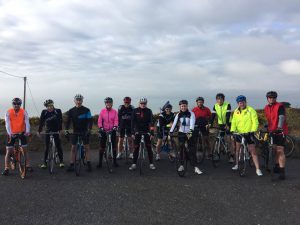 Beginners & improvers:
If you're new to biking, our beginner spins on Saturdays are a good place to start. They normally cover 40-50km at a gentle pace with an experienced PTC member leading them. There is a 'leave no man behind' policy for these spins so they will only be as fast as the slowest person. It is recommended that you have completed a 30km spin yourself before joining these spins.
Advanced:
If you're an experienced cyclist, our intermediate Sunday spins cover 60 – 100km at a faster pace.
All spins meet at Portmarnock Leisure Centre on Saturday Mornings at 9.00am (currently, these times will change as the mornings get brighter. Details about these spins are posted on our Members Facebook Page or in our WhatsApp Group.